The Confident Career
Decision Maker
A self-paced course
Are you ready to get unstuck?
Learn how to make career decisions that lead to opportunity, purpose, balance & financial success.
Maybe you can't pinpoint why you feel unhappy at work, but not having direction for your career is
taking a toll on your well-being.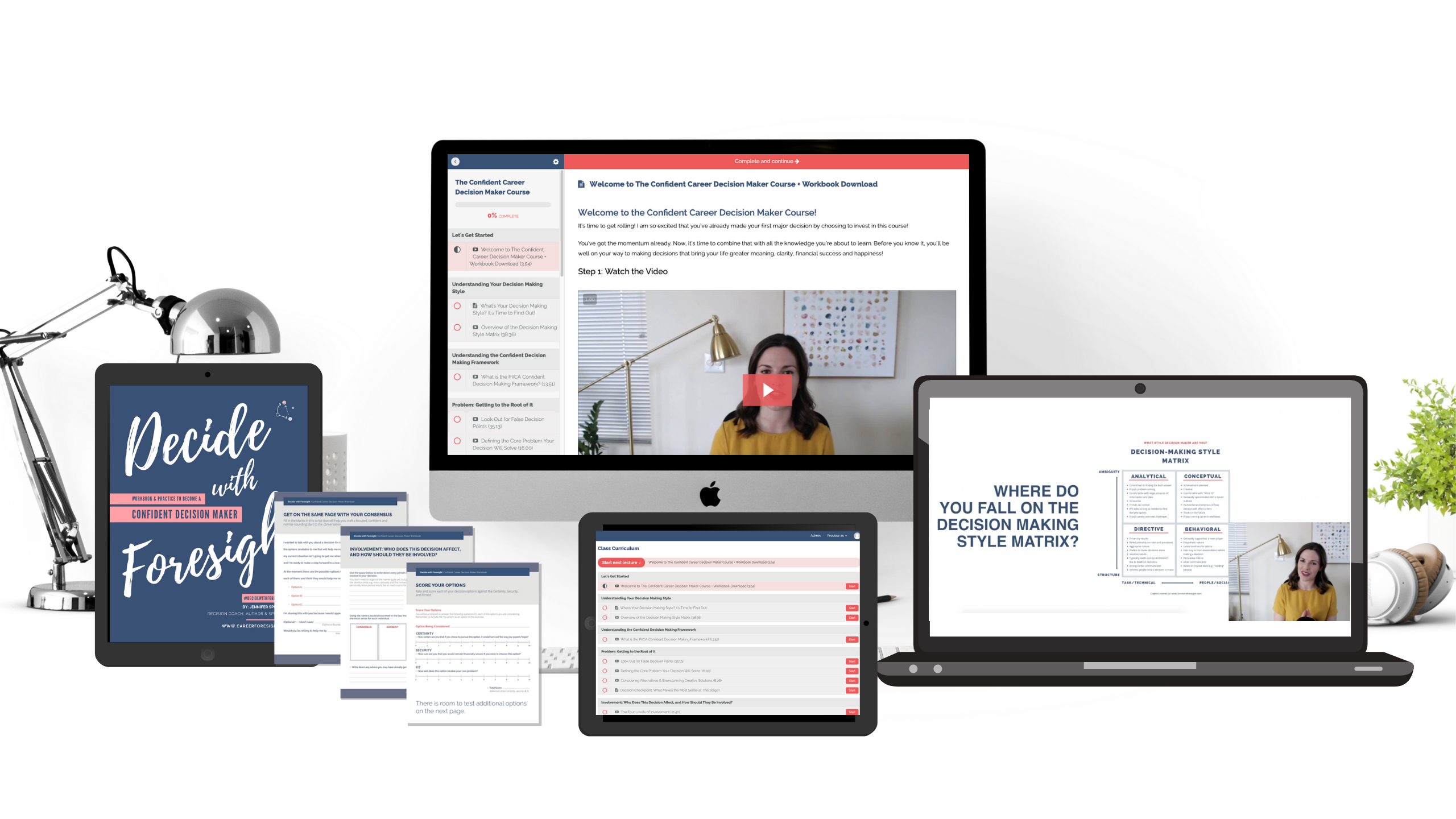 The Confident Career Decision Maker Course has all the lessons, guided worksheets and templates you need to find direction and make your next purposeful career decision.
Let's put it another way:

Each and every week, how much time are you wasting feeling frustrated and disconnected at work?
If you're like most of the multi-passionate people I've consulted with, motivation isn't your problem. You've got hundreds of ideas and the drive to accomplish anything.
Your real problem?
Knowing which option to invest yourself in.
How confident do you feel that your current work situation is helping you live up to your potential?
Are you building a career of purpose and impact that you feel proud of?
If your answer to either of those questions is not, "Yes! I'm confident." then something needs to change.
I know what it feels like to burnt out & bummed out at work.
Here are some telling symptoms that it's time to make a decision about your career:

You come home from work and sit on the couch frustrated every day because you spent nine hours at a job that does little more than pay the bills.


You find yourself frequenting Indeed.com and other job boards "just looking" at openings, but not knowing what you're looking for.


You day dream at work, or refresh your email 100x a day because you lose track of what you're actually supposed to be working on.


You know you're under-paid, but don't know what you're actually worth or how to ask for it.


You feel your potential is capped by the opportunities your company offers, or the scope of your job.


You run your own business but feel constantly anxious because cash flow isn't where it needs to be, or the marketing demands are just too much.


You show up at networking events only to leave early because while everyone else is fired up about what they do, you just feel lost and uncertain.


It's time for you to figure out what decisions need to be made to get
you on a healthier, more engaged path.
This course is designed for people like you.
Smart, skilled and ambitious people who are in a season where it seems they've lost their mojo.
When you feel that way, it's tempting to make rash decisions to spark a sense of adventure, or invest loads of time and money for training you *think* will lead you to a more fulfilling career.
The only problem is... What if those decisions aren't the right decisions for you?
Instead of giving you a roadmap to this or that career path, this course is designed to do something different.
It doesn't teach a one-size-fits-all formula.
Rather, it equips you to be a skilled, creative decision-maker so that you can develop solutions to complex problems and create life-long opportunities for yourself.
Plus, it also includes bonuses like the Negotiation Toolbox full of scripts for negotiating your worth, templates for important business documents (like resumes and proposals) and checklists to make sure you are 100% prepared to make your next move!
You may enroll in this course to solve your current career dissatisfaction, but what you learn will help you set yourself up for success in all areas of life. That's a good investment.
What does the Confident Career Decision Maker course include?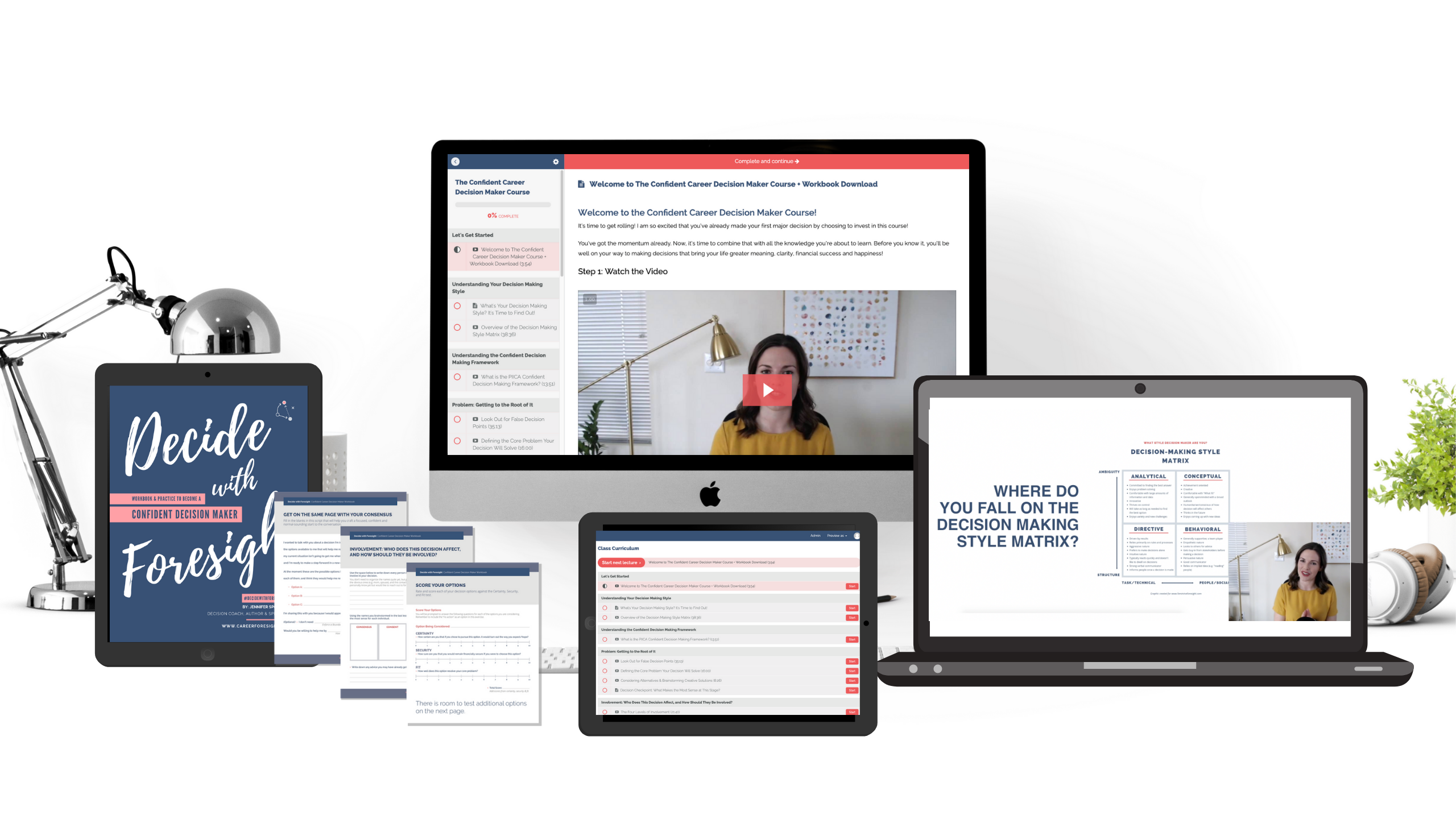 What's inside the course:
Twenty in-depth lessons that teach you how to develop the foresight needed to set goals and make smart, confident career decisions.




Lesson 1: Course Welcome & Overview
Lesson 2: What's Your Decision-Making Style?
Lesson 3: Overview Of The Decision-Making Style Matrix
Lesson 4: What Is The PIICA Confident Decision-Making Framework
Lesson 5: Look Out For False Decision Points
Lesson 6: Defining The Core Problem Your Decision Will Solve
Lesson 7: Considering Alternatives & Brainstorming Solutions
Lesson 8: Decision Checkpoint
Lesson 9: The Four Levels Of Involvement
Lesson 10: Making Your Involvement Lists
Lesson 11: Get On The Same Page With Your Consensus Group
Lesson 12: Decision Checkpoint
Lesson 13: (Advanced) Create A Custom Decision Tree
Lesson 14: The Certainty, Security, & Fit Test
Lesson 15: The Negotiation Toolbox (Checklists, Scripts, Templates & More!)
Lesson 16: Make Your Communication List
Lesson 17: Communicate What You're Moving Toward, Rather Than Away From
Lesson 18: How To Communicate Decisions With Clarity & Boundaries
Lesson 19: Develop An Action Plan & A Realistic Timeline
Lesson 20: Seek Out Accountability & Go For It!


Downloadable Decide with Foresight workbook. It's full of effective practice, worksheets and reflection questions to guide you through the decision-making process.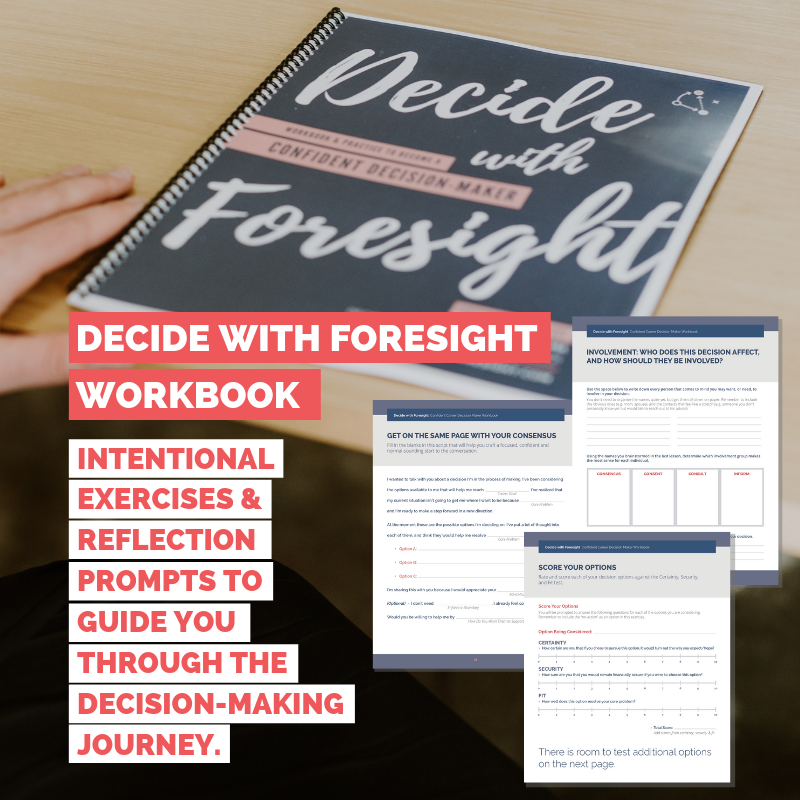 Tools you can use again and again, such as my decision tree template and customizeable project management timeline to help you execute on your career goals.



The Negotiation Toolbox: Curated resources, templates and scripts to help you nail your next negotiation and present your best self in formal business situations--without the stress!



1-on-1 Insightful Consultation Call with me (if you enroll by June 7th!)
That's a 60-minute call we can use to build momentum, brainstorm solutions and help you overcome any roadblocks keeping you from making the best decision for yourself.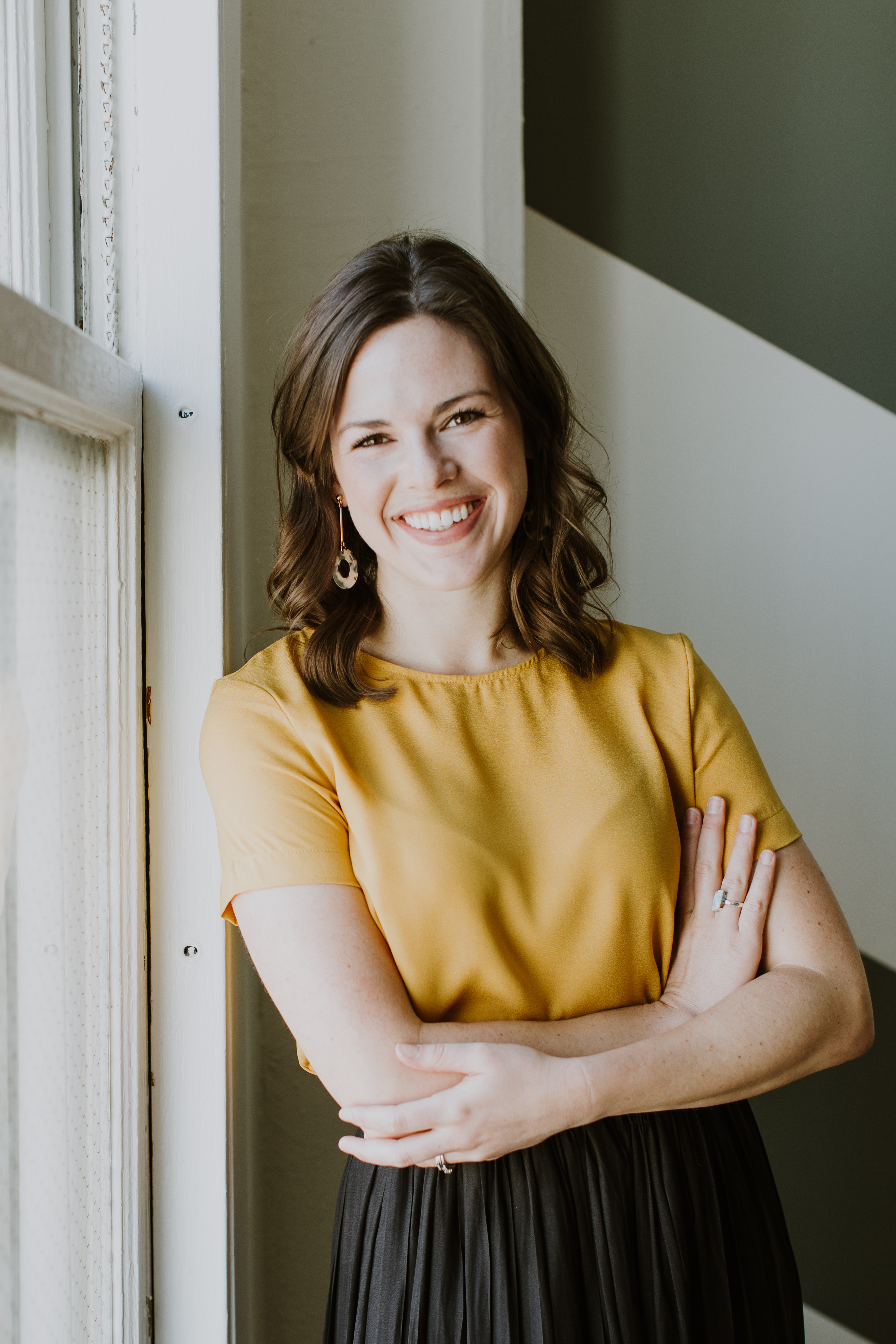 Hi! I'm Jennifer, your instructor for this course.
I've built a career in both the corporate world (tech education & training) and as an entrepreneurial author, podcaster and coach. My diverse work experiences have taught me the value of hard work, recognizing opportunity, and decision-making skills.

I've spent the past couple years researching, writing and speaking about what leads to a fulfilling and impactful career.
What I've discovered is that people who have honed the skill of foresight (which is knowing how to take action to achieve desired goals) are most satisfied in work and life.
Now, I'm on a mission to help people live their one life with foresight. I do this by helping people learn to make decisions that lead them to find purpose in their work, balance in their life, and joy in the process.

What people say about working with me:
"Jennifer infused me with confidence I didn't know I could claim while in the vulnerable job-seeking process."

- S. Gonzalez
"When I was in a state of loss and confusion about my next career move, Jennifer helped me through the process of finding what makes me motivated, how to have some tough conversations, and breaking down what I wanted vs. what I should want based off of external pressures."
- T. Handell
Let's take a look at the value this course offers you:
Over 4.5 hours of video teaching + lessons = $450 value
Decide with Foresight workbook = $45 value
Access to the Negotiation Toolbox - $200 value
Decision style quiz & profile = $25 value
Project planner & decision tree template = $50 value
1-on-1 (60 min) Insightful Consultation Call = $160 value
That's a total of $930 of value!
You get all of it for just $397!
Course Curriculum
Let's Get Started
Available in days
days after you enroll
Understanding Your Decision Making Style
Available in days
days after you enroll
Understanding the Confident Decision Making Framework
Available in days
days after you enroll
I need this! How do I get started with the course?

As soon as you select the "Enroll" button below, you will be redirected to a screen where you can securely pay for the course. I'll immediately email you a receipt along with a link to access your course dashboard and the Decide With Foresight workbook.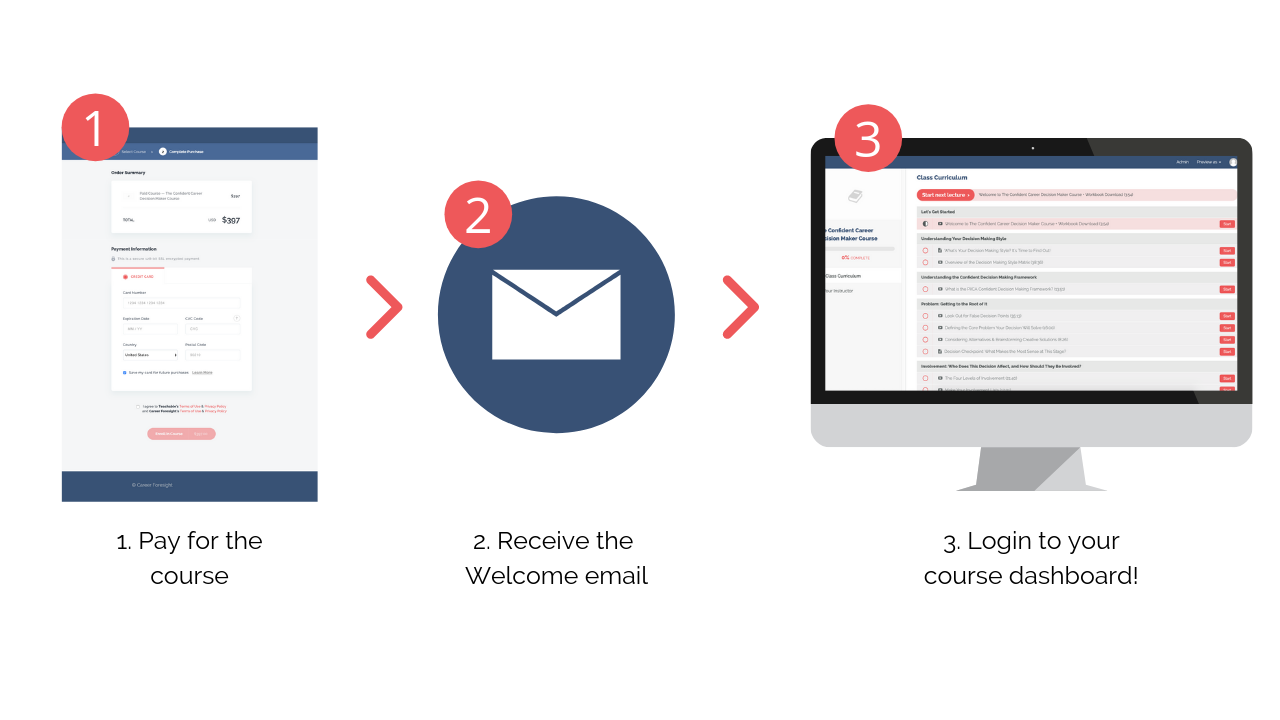 You can dive into the lessons instantly and work through them at your own pace!
Frequently Asked Questions
When does the course start and finish?
The course starts now and never ends! It is a completely self-paced online course - you decide when you start and when you finish.
How long do I have access to the course?
How does lifetime access sound? After enrolling, you have unlimited access to this course for as long as you like - across any and all devices you own.
How long will it take to complete the course content?
It's mostly up to how quickly you move through the content. But most students can complete the lessons and workbook content in about 30 days.
What if I am unhappy with the course?
We would never want you to be unhappy! If you are unsatisfied with your purchase, contact me in the first 30 days and I will give you a full refund.